October 23, 2013 | Posted in:Investing
Earlier this year Mrs. JM decided to give investing a shot, as a novice investor she chose the easiest way ever to invest. Later during the year, I decided to diversify the portfolio, and up the risk factor a little bit and give my money to complete strangers.
However, I haven't kept you up to date with the returns for either of these endeavors, so here is an initial look at how things are going so far.
I'm going to create a separate page soon for future articles of this nature, and update it monthly so the readers who don't give a shit about this kind of stuff don't feel like they're being spammed.
Betterment: Investing Made Very Easy
Betterment is a pretty awesome company. They offer taxable investment accounts, as well as Roth IRAs. The secret to their success lies in its simplicity.
If you're a total beginner, and want to learn a little bit about the stock market through experience, then setting up a Betterment account is the single best action you may ever take. For those who have plenty of experience, you should probably head to Vanguard or your preferred stock broker.
Since we opened our Betterment account in February 2013 with an allocation of 100% stocks and 0% bonds we've seen an average growth of 8.0% over the 8 month period.
Those that have a brief understanding of the stock market may be thinking: Hasn't the stock market gone up over 15% in the past 8 months, and yes you're completely right. But, one thing you have to understand when you're investing a set amount of cash every month is that you will more than likely reduce or increase your overall average returns with every deposit you make.
What I mean by this is that our initial Betterment investment in February has grown 14.1%, and our most recent contribution within the past week has only increased 0.7%. We're only really concerned with the overall return, though, which is only about 2% lower than the S&P 500 index over the same period of time. This concept is know as Dollar Cost Averaging.
Without knowing anything about the stock market, besides the fact that it's a magical place to make money, you could have almost matched the growth of the overall US Stock Market. The fact that Betterment allocates the majority of your stock holdings into Vanguard ETFs should say something about the quality of the company and your portfolio.
If you haven't opened a Betterment account yet, and need even more convincing, you can have a free $25 just for opening an account here: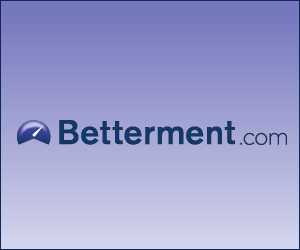 Propser: Peer-to-Peer Lending Like A Boss
To add a little bit of diversity to our portfolio I thought to myself what could be a better way to make money, than to help others who need money. The answer to that question was NOTHING, of course!
My love for great returns and for helping people in need led directly to the social lending site Prosper.
Since banks don't really like to give out unsecured loans — especially to people who don't have perfect credit profiles – there are usually hundreds of loan applicants looking for funding from other real life people, like you and me. After their loans are funded and they receive the money they'll repay the principle balance plus interest to you, and everyone is happy.
Prosper's seasoned returns are estimated to fall in the 9-11% range. There is an apparent risk vs. reward aspect to their seasoned returns model. Loans with a "C" grade and lower are considered very risky, which is a reason they have such high interest rates tacked onto them. They also have a higher rate of default.
So far my 2-month old account has seen gains of 4.88%. At the time of purchasing the bulk of my notes there were only "AA" and "A" grade loans available. The low risk nature of these loans also reduces the interest paid out by the borrower, which means less money in your pocket at the end of the day (still more than a savings account or CD!).
Since that first initial buy, I've seen lower grade loans enter the marketplace and if their details pass my inspection, I'll try to buy notes — or portions — of the loans to increase the potential for my overall portfolio.
As it stands right now I've had ZERO defaults, the accounts have an average yield of 10.38%, and all 37 notes are currently up to date on their payments. My returns aren't "seasoned" yet, so we'll see how that pans out over the next few months.
While buying notes from the Prosper Marketplace isn't as easy as the set-it-and-forget-it style of investing offered by Betterment, they are able to provide an efficient investment opportunity that didn't exist until recently.
Take advantage of the Loan Marketplace before the big time investment vultures swoop in. They've been known to squeeze the little guy out of a good opportunity. Sign up here: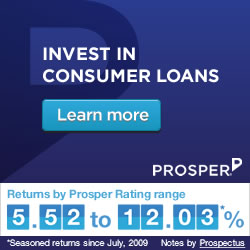 *I refuse to disclose the total size of our investments for obvious reasons, but returns are returns regardless of investment size.
**While P2P Lending and Betterment are both great, 99% of our portfolio consists of low-cost index funds at Vanguard.
Start your own Kick-Ass blog in less than 10 minutes.
I will help you via email for the first month of your blog's existence, free of charge. You can bounce ideas off of me, ask me for tips on building up a following on social media, among other things. Whatever you need help with, I'm here for you.
11 Comments